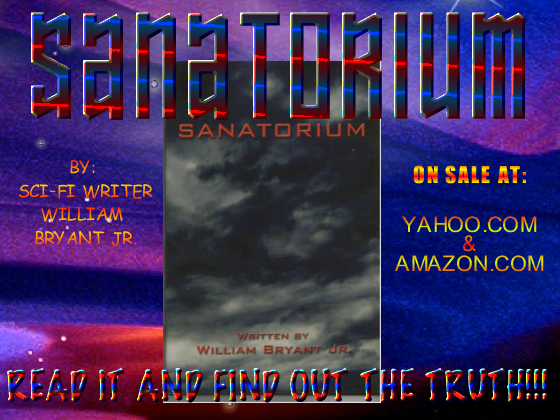 ON THAT DAY

"SANATORIUM" has characters that also reflects who we are now and what would happen if we were faced with a situation that threatened our very existence. What would we do if we were under attack by an Alien force without warning. How would not only our government react but what about the other countries on the planet.

Do we have defenders to protect us? What about the Star-Wars weapons that was made popular in the 1980's doing President Reagan's Administration? Is it ready? Is it up there orbiting the Earth ready to defend us in case of an attack by UFO's, or is it pointing down at one of our many enemies? And what about NASA? Did they see anything on Mars or do the Astronauts see UFOs every time they go up in the Shuttle and being told by NASA not to tell what they saw?

Well, there are many questions that needs to be answered, but getting back to "SANATORIUM".

"SANATORIUM"

deals with what would happen when the UFOs decide to make contact and what the situation may be like on that day.

It deals with everyday people and how they would react. From the Hood too the Suburbs what would our reaction be.

THE WAR OF THE WORLDS/1955, INDEPENDENCE DAY & SIGNS.
SANATORIUM, the first of the series, has all of the qualities of those great films that show how we will band together and fight a commond foe but also it shows a side of us that needs to be changed if we are to survive.
When you purchase the book and feel the excitement, fear and angush, it will make you think and see the world different. Although this is a sci-fi book, it could also be our destiny.
"WE ARE ONE"
Thank you.
wbjr